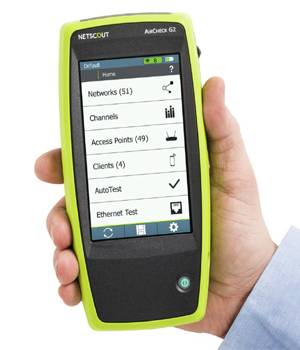 NETSCOUT : AirCheck G2 Wireless Tester
Wi-Fi is a complex technology, but testing it doesn't have to be. AirCheck™ G2 Wireless tester is purpose built for the front-line IT responders dispatched to the complaints of: The Wi-Fi is not working or the Internet is down. The AirCheck G2 Wireless Tester provides fast, simple, and accurate isolation and troubleshooting,thereby reducing the time to resolution of wireless issues.

There are many variables that lead to Wi-Fi complaints, ranging from network based problems and configuration issues to environmental or client device misconfigurations. Collecting all the key pieces of information the very first time is key to every front-line IT responder to resolve any complaint. AirCheck G2 simplifies wireless troubleshooting by providing:

[•] A rugged, purpose-built wireless tester supporting the latest Wi-Fi technologies (802.11a/b/g/n/ac) that's easy to use and easy to carry
[•] A one-button AutoTest, which quickly provides a pass/fail indication of the wireless environment and identifies common problems - for any level of Wi-Fi expertise
[•] An instant view of test results including network availability, connectivity, utilization, rogue devices, and interference detection
[•] A centralized test results management platform, Link-Live, that facilitates greater job visibility, project control and fleet management for larger distributed environments.